Transformation comes by first gaining awareness of your current state, then choosing a path to growth through personal understanding and the application of new patterns and practices.
'Small targeted changes now begin the process of lasting transformation in the future.' 
Over the next few weeks I will be sharing a series of posts that focus on my teachings of The 6 Selves™, examining each self to better understand how it informs our lives both personally and professionally, and how it energetically impacts us.
With each of the six selves there are also three Levels of Understanding that inform our connections to the self and how it manifests.
Intellect (Mind) – how we comprehend and make sense of things.
Emotion (Body) – how we physically 'feel' the experience
Energetic (Spirit) – how we connect in to something greater than ourselves
When we are aware of which level of understanding is engaged, we can dig deeper into the experience. These levels of understanding make up the layers of the heart-centred work and through them you learn to rely on your heart and the blessing of connecting directly with Source.
Each one of The 6 Selves™ is designed to activate your energy, inspire creative thinking, ignite inspiration and inspire action!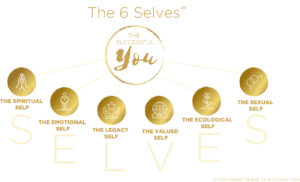 S – The Spiritual Self | connection to life, gratitude & mindfulness

E – The Emotional Self | responding rather than reacting & making wiser decisions

L – The Legacy Self | connection to our purpose personally & professionally

V – The Valued Self | valuing & honouring our time, energy, money & wisdom

E – The Ecological Self | surrounding yourself with those who lift yet challenge you

S – The Sexual Self | connecting to your sensuality & creative expression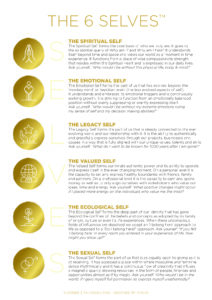 Follow along with me for this series as we examine how The 6 Selves™ inform our personal and professional lives and how through awareness and the Levels of Understanding we can experience more time, energy, money and wisdom.
I invite you to share this journey with me, and share this post with any other beautiful souls you think would like to gain this understanding as well.
Deb x
For more information on how to work with me to go deeper into the benefits of The 6 Selves™ and the outcomes you can achieve when you focus intentionally on these areas visit https://debbiezita.com/coaching/